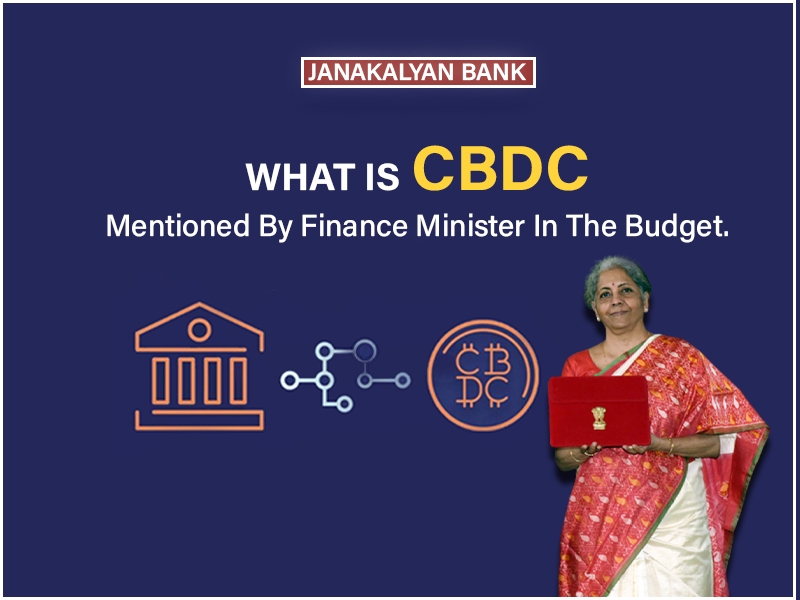 Introduction:
Finance Minister Nirmala Sitharaman announced in her Budget 2022 speech, the launching of Reserve Bank of India's (RBI) own digital rupee. India has stepped up on the path of digitalization and the introduction of Central Bank Digital Currency (CBDC) would provide a significant boost to the digital economy.
This Digital Rupee is a Central Bank issued Digital Currency (CBDC) – a digital version of the Indian rupee. In a way we are already using digital rupee in the form of NEFT, IMPS, and digital wallets for both wholesale and retail transactions. But CDBC will be a sovereign electronic record of the official currency of the country and will become an integral part of all financial balance-sheets. People's preference for digital currencies have made private players emerge and hence RBI has taken this step to meet the market needs and control and avoid more damaging consequences of the private virtual currencies.
Is The Digital Rupee A Cryptocurrency?
No. The digital rupee is not a crypto currency but a crypto competitor.
"A currency is a currency only when it is issued by the central bank, even if it is a crypto. Anything outside of that, loosely, we refer to them as cryptocurrencies, are not currencies", said Finance Minister Nirmala Sitharaman.
Cryptocurrencies with block-chain mechanism work without a central authority like a bank or government in a decentralized manner. CBDC on the other hand is a centralized legal tender issued by central bank on proposal by RBI, and not "virtual assets". RBI will consider "centralized" technology models apart from block-chain.
With private cryptocurrencies on the rise and their illegal usage via laundering, tax evasions and many malicious issues, issuing its own CBDC was the most appropriate decision taken by RBI.
The fiscal budget for FY 2022-23 has made private crypto currencies like Bitcoin and virtual digital assets like NFTs to be taxed at a rate of 30%, but this tax regulation does not apply to the RBI's Digital Rupee.
Digital Currency – A New Phenomenon?
As per a trusted report, 90 countries representing 90% of global GDP are currently exploring digital currencies. Of these, 16 countries are now in the pilot stage while nine countries have launched a digital currency. India will soon join this small group of countries with a digital currency.
Benefits Of The Digital Rupee
CBDC payments will be final and rule out the need of interbank settlement
It can be real time across the globe in different time zones as well. Payment to vendors abroad can be honored without the need of any intermediary. It would be equivalent to the cash exchanged in whatever currency (dollars, pounds etc.) is needed.
Faster settlement and immediate liquidity are the striking points of this kind of digital payment.
Transactions will be safer with the promise of anonymity.
It is the most appropriate tool to drive the concept of cashless economy ahead as it will lessen the burden of handling, printing and logistics management of cash, apart from making digital payments and online transfer of funds more secure.
Concerns Regarding The Digital Rupee.
CDBC is still like diving in unknown waters. The stability of the system cannot be gauged at the moment.
Being a cash--equivalent, the central bank needs to guarantee enough liquidity to allow withdrawals.
The Government needs to devise crime control mechanisms to monitor frauds and thefts.