Point of Sale (PoS) or Swipe machine as it is popularly known, is a technological instrument provided to our customers to carry out the sale of goods or services to their customers in a cashless environment.
Bank will provide Point of Sale (PoS) terminal through
MINTOAK
at Current Account holder outlets which facilitate acceptance of payment from their customers by swiping debit/ credit /pre-paid cards on the PoS terminals as sale proceeds of good and services.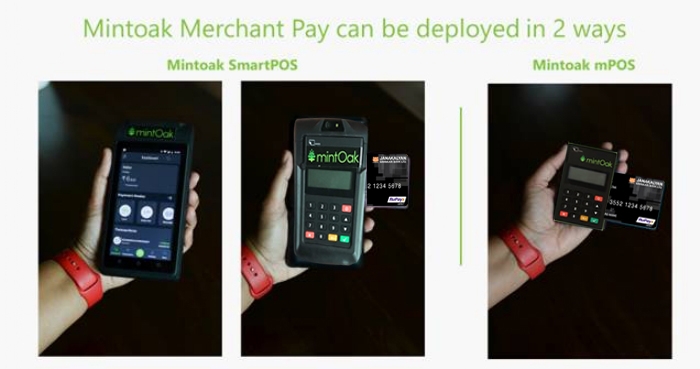 Mintoak Innovations Pvt. Ltd. is in the field of creating digital ecosystem, especially for the SME. Delivering simple, secure and reliable payment platforms that accept all types of digital payment products. The Co.'s aims to develop digital solutions that would keep the SME highly engaged and ripe for growth. Bridging the finance gap for SMEs requires several players.
M/s. Mintoak is equipped with two types of product for the SME's.
Mintoak Merchant Pay- A comprehensive payment experience for SME's. It facilitates with

Omni Channel Payment –Customer can pay any type of payment channel.
One View, One report – enable the vendor for hassle free reconciliation.
One Statement with all information.
Real time recognition of royal customer to reward them for their patronage.
Preferred language selection.



Mintoak 360, Business Owner App.

Anytime, Anywhere Access for Business owners.
Interactive Smart Dashboard- Store level, Payment mode view, Track six months performance.
Customer view- New and repeat customer
Customer feedback and rating.
Assist in Social Media Marketing.
Dispute Management – dispute expert guidance.
Easy refund- Manage entire refund process digitally.