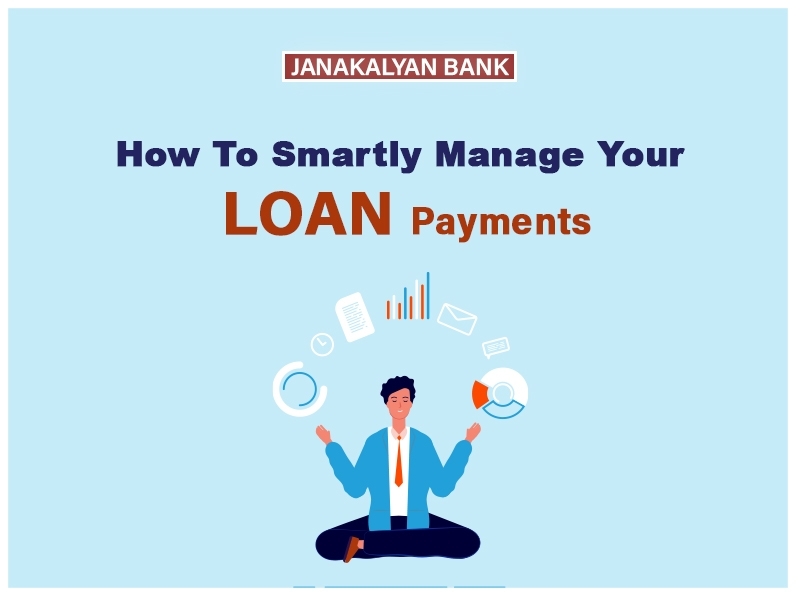 Introduction:
Debt certainly isn't always a bad thing. Loans taken to build assets or enhance skills are good loans and will only add to the net worth of the individual. A Mortgage helps you afford a home,. Business Loan helps you expand your vision and your horizons,. Student Loans pave the way ahead for good jobs,. Gold Loan comes in handy when financial situations are tight,. and, a Personal Loan fulfills modest dreams and smaller necessities. In other words, borrowing assists you in achieving your financiale goals but on the other hand mismanaged debts can mess your finances and overwhelm you with mental stress. To take a loan is easy, but to repay it is hard. Smaller loans or debts are easier to manage but it is the long-term loans that burden your pocket and often pose a challenge to meet. Loan repayment is not only a financial obligation but a legal and moral one too. What you need is a good fiscal plan and upright financial discipline to escape the debt shark.
What makes a good fiscal plan or financial discipline? – One may ask. Borrowing combined with a clear understanding of costs, benefits and borrower's responsibilities makes it a better cut for people. Discipline is the bridge between goals and accomplishment. Financial discipline demands that you have a budget. Control your money and do not let the money control you. Discipline yourself financially and ensure that it is flowing in the right direction every time, all the time.
Make An Overall Assessment Of Your Loans:
Take stock. Organize all details in an excel sheet as to what all loans you have, how much are the loan amounts, how much are their interest rates, how much are the installments and what is the exact tenure, how much have you paid and how much remains? This will help you to know your costliest loan and the ones that need urgent attention.
Do Not Fall Into The Trap Of "Minimum Amount Due":
Paying minimum amount due on credit cards and other such loans will keep the lenders off your track but this keeps compounding the interest and multiplying the amount payable. Try and settle the actual monthly amount due and not get lured with the minimum amount due clause.
Repay the Loans With High Interest First:
Settling the higher interest loans first may save you from paying more interest. Credit card debts and personal loans often qualify to be the loans with highest interests. Pay maximum amounts in settling them first. In case you have multiple loans to repay and meagre resources to settle them, settle the minimum amount due for all of them and pay more towards the ones with highest interest rate (Costlier Loans).
Make Timely Payments – Automate Them with ECS:
Ensure timely payment of your EMIs. Paying by Cash is a bad idea when you are concerned about maintaining a good credit score. Cheques or net banking too need reminders and cheques are subjected to realization. An ECS mandate with your bank will automatically settle your monthly EMI on time. Timely payment for the first loan makes second time borrowing easier, in case you need another loan sometime later.
Budget your Finances:
Know your income and expenditure well. Differentiate between necessities and luxuries. Control and manage your lifestyle. Save more and create a fund that takes care of your EMI payment(s).
Increase Your EMI When You Can:
In case of rise of income, instead of splurging the extra, adjust it against the EMI payment. Increase your EMI amount and reduce the tenure that way. You may be paying extra but it will save extra interest. Remember, a little extra goes a long way. A bonus, an income tax refund, maturity proceeds of your investments can also be used to pump up the payments and clear your loans faster. Prepayment of loan fully in case if possible may reduce the burden but be cautious of the penalty charges in that case.
Make Your Investments (Insurance) Pay:
When situation gets grave, make your investments pay. Borrow against insurances and FDs to settle the loans first. Your Assets may not yield interest for some time but they will weld the interest burn on your loans. In case of disease, death or disability your insurance can help your family pay the EMIs.
Refinancing or Consolidation:
Consolidate multiple loans into one against a fixed asset or property. Repay existing loans with higher interests and tenure with a secured loan against property. This way you will need to track less, remember and manage a single EMI that too on lower interest rate. (Home loans are cheaper than personal or gold loans)
Avoid Loan Settlements
Lenders may lure you with easy "settlements" of loans but that reflects badly on your credit score. This can mar your future borrowings.
Close A Loan With "No Dues Certificate":
Ensure to receive a No Dues Certificate from your bank and lenders on closing a loan. It establishes the fact that loan has been repaid in full. Remember to take the pledged collateral back (Car hypothecation, Property papers, Fixed Deposit receipt, Insurance Policy)
Conclusion:
A man's indebtedness may not be his virtue but repayment is. We have enumerated ways to manage your repayments smartly. Being aware solves half the trouble. Loans are good, but repaying the loans on time is even better.